What Are Neighbours For? and Straight to the Top
Note
I wrote a couple of skits at school and in the sixth form, and then tried my hand at a more serious piece, Games at Playtime. By then I'd also appeared in a number of school productions, one of which was Joe Orton's Loot (playing McLeavy). I got hold of Lahr's Orton biography and fell rather under Joe's spell. I was fascinated by his use of farce as a means of communicating some very provocative and brutal truths. I decided to have a go at writing a farce myself.

I wrote What Are Neighbours For? when I was 17. The two lead characters were gay. Although I knew very well that this was the way my own inclinations leant, I'd never met any other (out) gays. Gavin and Dave are pretty stereotypical, but so are the rest of the characters. When I came to co-form my first theatre company two years later, we chose What Are Neighbours For? as the first production. I was the most developed script we had. It runs under an hour.

We blagged our way into being given a room above a gay pub in Islington and produced the play, roping in a cast of nine. We all worked for nothing. We got a pretty nice review from City Limits. I got a telling off from Capital Gay for not being politically correct. Starting as I meant to go on… Audiences came and we continued to produce.

I wrote another serious drama, Lot, and then another farce, Straight to the Top. Because it was easier to sell comedy, the latter became my second work to be staged. There were a lot of rumours about various celebrities being closeted gays at that time. Straight to the Top is about one such, pop star Rick August. It has mistaken identity scenes of farce. Some mischievous on-stage rudeness. I do try to get into the psychology of desperation which makes fans invest so much in their idols.

Straight to the Top, which runs about 75 minutes, also satirises a certain type of greed-led mentality, in the character of the pop star's manager. It was somewhat prophetic. When the manager discovers there might be a market for a gay pop star, he feels a lot better about his client coming out. In the years that have followed, the industry has found a way to celebrate and sell gay talent. We got some good reviews again; we were in What's On's top 10 recommended shows. We gathered some kind of audience.

All of the plays mentioned are essentially apprentice work. I was writing under heavy influences. I wasn't working in a style which suited me. I decided to write something closer to home. Closer to the bone. My next play, The World & his Wife, was really my first.
Story
What Are Neighbours For?

Gavin brings a pick up, Dave, home. As they settle down for some trade, evangelist Herbert Mank comes calling. A fight ensues, they knock him out, and hide him in the freezer. A neighbour, Roger, calls and asks them to hide a prostitute, as his wife has returned unexpectedly. Gavin's brother, Lenny, turns up, on the run from the law.

The law, in the form of the brutal Inspector Dillworth, arrives. He exposes the various secrets hidden in the flat. He brings his own violent and final form of justice to bear on the situation…

Casting requirements: 2 f, 7 m



Straight to the Top

Rick August is a hugely successful pop star. A great hit with the girls. A reporter and paparazzi arrive to try and search out any secrets. Rick's manager, Harry, sees them off. But Rick's lover, Pete, is tired of the subterfuge. He gives Rick an ultimatum – be honest or lose their love. Rick isn't ready to be honest.

That night, things become complicated. The press hide in the house, looking for their exclusive. Barry and Susan, a hysterical fan and her brother, break in. Susan feints, Barry hides her, Rick thinks Barry is a fan and decides to exercise his new-found singleton status. With them up in the bedroom, another fan arrives, young gay. He dresses as a girl in the hope that Rick will respond. He gets more of a response from Rick's manager.

Various complications ensue before everything works out fine.

Casting requirements: 2 f, 5 m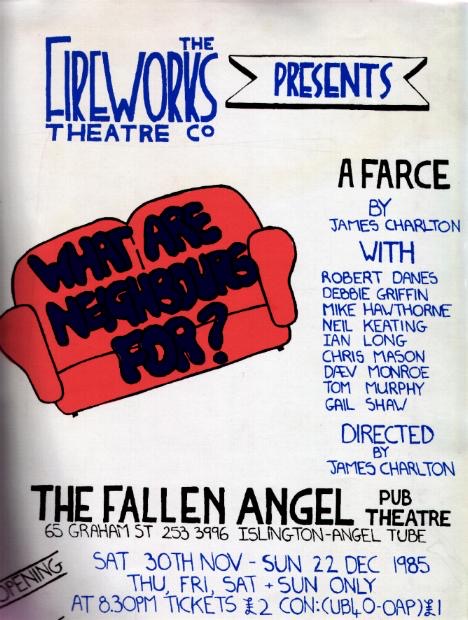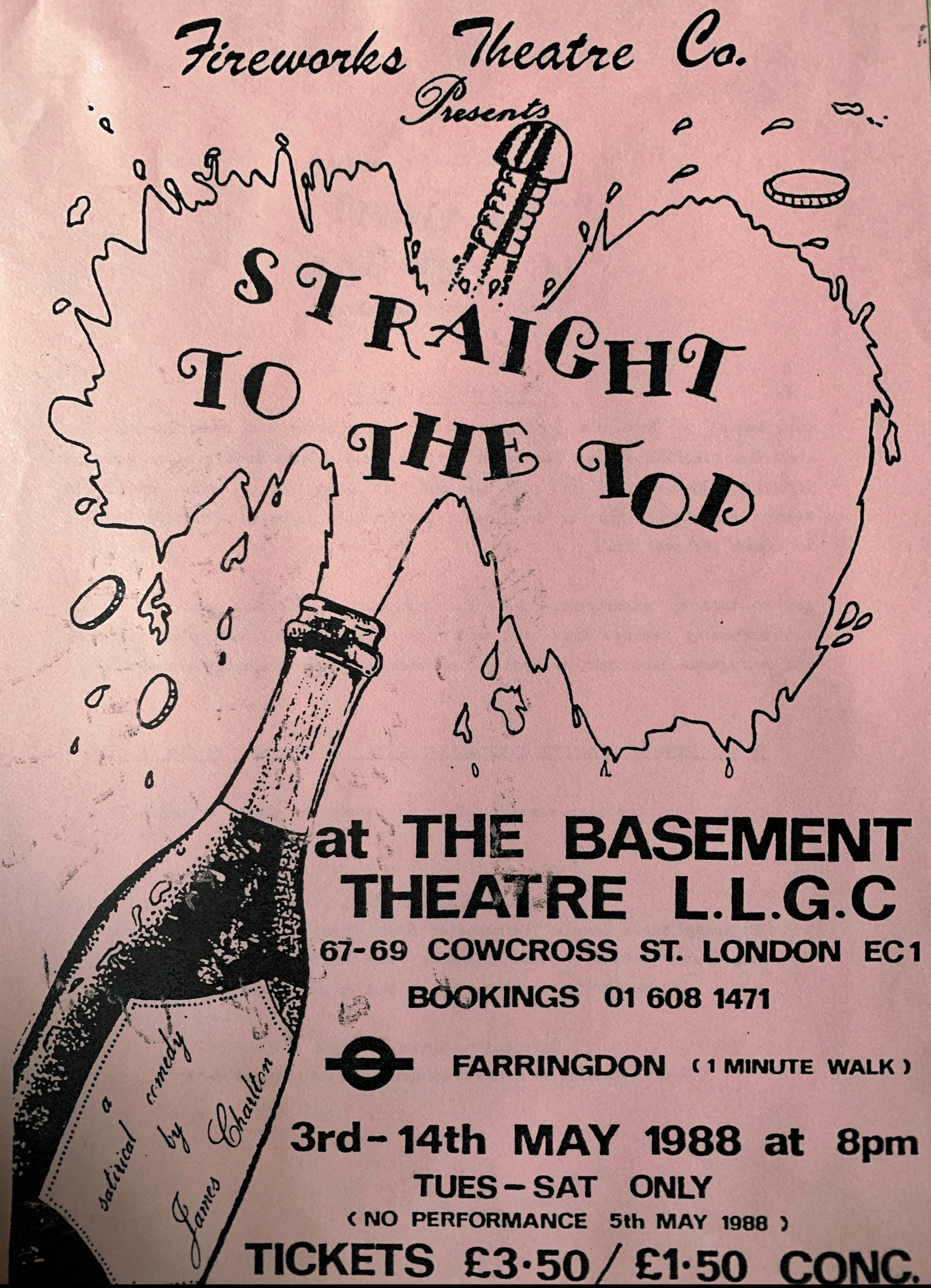 Production(s)
What Are Neigbours For?

Premier: Fireworks Theatre Co. at Fallen Angel Pub Theatre, Islington, 30 November – 22 December, 1985
Cast: Robert Daines (Inspector Dillworth), Debbie Griffin (Linda Crawley), Mike Hawthorne (Sergeant), Neil Keating (Dave Wilson), Ian Long (Herbert Mank), Chris Mason (Lenny Watkins), Daev Monroe (Gavin Watkins), Tom Murphy [Tom Hayes] (Roger Crawley), Gail Shaw (Gwendolen Worthing)
Directed by James [Martin] Charlton; designed by George Martin and Mary Roberts
Produced by Fireworks Theatre Co.

Straight to the Top

Premier: Fireworks Theatre Co. at London Lesbian and Gay Centre, 3-14 May, 7-12 June, 1987
Transferred to Etcetera Theatre, Camden Town, 5-23 July, 1987
Cast: Neil Downie/Purton (Rick August), Steve Dumain (Barry Flint), Steve Gregory (Ferguson Wiles), Debbie Griffin (Stella Mason), Daev Monroe (Tim Trotter), Tom Murphy [Tom Hayes] (Harry Thacker), Andrew Saltman (Pete Wilson), Jo Whassername [Jo Bradley] (Susan Flint)
Directed by James [Martin] Charlton; designed by James [Martin] Charlton, Daev Monroe, and Chris Mason; lighting by Slinky Jane McFane
Produced by Fireworks Theatre Co.
Press/Audience Reaction
Straight to the Top

"A wild, rabid farce concerning two gay lovers, about to get some action, but interrupted/assaulted/insulted/attacked continually by a manic religious campaigner, a Conservative card-holding neighbour, his griping wife, a prostitute, a cockney mass murderer, and a brutally violent inspector. Phew! Think that was difficult to remember? It's even harder work watching the action and coming to terms with the stock farcical ploys of goolie grabbing, knees in groins and a handful (sorry, no pun intended) of innuendoes about 'the length'. It is a cleverly written quick-fire play, if a little predictable in parts, with some vicious moments, but if you like your theatre physically and visually exuberant you'll like it a lot." - Norma Horsford, City Limits

"Islington's radical-chic gay pub, The Fallen Angel, has taken support for The Arts a step further with the creation of a living room sized theatre upstairs. This extension of gay-accessible performance space is greatly to be welcomed. The same cannot be said for last week's debut performance of The Firework Theatre Co's What Are Neighbours For? A two-act farce running for about an hour, the play owes a debt and an apology to Joe Orton. Two gay men settling down to a night of lust are disturbed manic Evangelist, the straight, adulterous Tory landlord, a prostitute woman, the deceived wife, the mass-murderer brother and two examples of the Met's finest. Doors open and shut with the rapidity of Italian governments collapsing and the two faggots race about in shortie dressing gowns and knickers. What is supposed to lift the drama from the realms of cheap smut is the character of Inspector Dillworth, an amalgam of Orton's brutish Truscott and Stalin's jolly friend Beria. Foul mouthed, bigoted and violent — he kicks people in the groin as nonchalantly as Bette Davis lights a cigarette — he struts the stage with the confident and terrible swagger that power alone affords. But although Robert Daines brings relish and energy to the part, the writing lacks the tension essential to true black comedy; what we get instead is the crude humour of an average satirical sketch. Nevertheless, the 19-year-old playwright-director, James Charlton, shows considerable craft in the structure and pace of the play, as well as giving his cast some delightful comic one-liners. And although Robert Daines steals the acting honours, he is given enthusiastic support, especially from the lead faggot, Gavin, played by Daev Monroe. He ploughs bravely through some cringe-making stuff about being true to your real nature, but the author compensates by awarding him a genuine comic solo. Trying to prove to the disbelieving Filth that he is not gay but really an outrageous straight. pop star, he capers about performing his alleged hit song: "Help! I'm being gassed on a cruise liner in the Indian Ocean. With police powers about to be vastly increased again, and democratic accountability a wistful dream, Dillworth's casual, braggardly assertion of total power is more real than mere fantasy, and this serious warning is both loud and commendable. Much less so is the racism, sexism and misogyny that peppers much of the dialogue — it is gratuitous and unjustifiable as theatre. Shorn of this insensitivity, there could well be a genuine writing talent in the making." – David Thornton, Capital Gay

Straight to the Top "Gay rights, feminism, and model boundaries controlling ambition are popular issues in our society and definitely affect attitudes of this era. The fireworks theatre company, whose goal is to perform both new plays and where relevant revivals, successfully deal with these topics in their production of Straight to the Top… This satirical comedy directed by James Charlton contains elements of frustration, sadness, irony, and hysteria, as well as humour. The play is set in Rick August's living room at three in the afternoon and stays there until after midnight…. Tom Murphy plays a brilliant and comical role as Harry Thacker. He epitomise is the stereotypical profit hungry and ignorant tacky manager who will do anything for money and sex. Debbie Griffin, known as Ms Mason, acts the role of a prudish, ambitious, and self-righteous investigative reporter. The character clashes dramatically with Harry Thacker and much comedy ensues. Neale Purton in the role of Rick August plays the frustrated pop star trapped between his public role and his real life. The play opens with Stella Mason and her side-kick photographer waiting for an interview with Rick. Ms. Mason's main interest is to uncover the truth behind his sex-stud facade. She is offended by the sexist lyrics throwing women into an inferior position in society. Her hypothesis explaining the exaggerated macho lyrics is that (much to the fans surprise) Rick August may, in fact, be gay and she will do anything to discover the truth… The story becomes interesting when the various tensions begin to unfold. Harry Thacker, the sleazy manager, creates a false but appealing image for the public. His plan is threatened' by Ms. Mason who wants 41 justice for the exploited female fans, Rick's lover, wants an end to the hypocrisy and support for gay rights, and Tim Trotter (a gay fan) with his dreams of seducing Rick. The funniest scene is one involving Barry flint and kick where Barry, a tough wrestler, breaks into the house so his Sister can meet her true love, Mr. August. Rick mistakes Barry for Tim Trotter, who had written a letter saying he was coming to visit. Rick then proceeds to seduce Barry. Barry plays along as Tim to cover for his sister who is hiding in the closet!... The plot is filled with ironic misconceptions such as this. For an entertaining evening, Straight to the Top will satisfy the desire for laugh and emotion. But be prepared, it may challenge and reveal your attitudes toward gay rights or feminism" - Claudia Mispireta, What's On in London

"Straight to the Top, extending its run at the LLGC from June 7-12, is a gay version of a Brian Rix farce, full of dropped trousers, people popping in and out of wardrobes or wooden chests and the usual mix-ups and misunderstandings about sex. This format is given a new twist with a man in drag and a straight youth assumed to be gay. The latter, Barry (played by Steve Dumain) provides some real belly laughs as he is unwittingly trapped in a situation with closet gay superstar Rick August which allows only one resolution. With a typically trite ending where liberated investigative journalist Stella is paired up with sexist spiv manager Harry Thacker (suitably over-acted by Tom Murphy) simply because they are the only unmatched pair left, it is a clever send up of a comic tradition from writer James Charlton." – City Limits